Portable Car Heater Defroster - 12v Electric Heater For Car
If you have the following troubles, then this car heater can help you solve them.
1.The car is cold in winter, hands and feet are frozen.
2.Car is prone to fog and it is difficult to see the route ahead.
3.Frost outside the window, need to manually shovel the frost.
4.Need to clean the windows when driving.
Car Heater Features : 
[Adjustable Two-In-One] Car heater has two levels of adjustable. FAN is cold air, HEAT is hot air, and OFF is closed. Simple operation and multi-level adjustment to meet your different needs.

[Suction Cup Type] The air outlet of the car heater plugged into the cigarette lighter is concentrated, and the suction cup type has long heat transfer and is durable and anti-rust.

[High-Power Rapid Heating] Upgrade 12V car heater, 150W high power, increase air temperature, defog and defrost, and improve driving safety. Is a good helper in the car in winter.

[Easy To Use] The car heater has a small portable size, the large suction cup is firm and does not fall off easily, and it can be adjusted in multiple angles.
Car Heater Benefits: 
Fast Heating - The powerful 12v heater for cars can quickly heat the air within one minute, warming your winter. This windshield defroster can help you solve the problem of fog and frost cover on your car's windshield Blocking your view effectively, so you can get on the road and get to your destination safely.
Air Purification - In addition to helping you quickly clean the fog and frost on the glass, this best portable car heater defroster can also be used as an air purifier, which is very suitable for vehicles, camping and camping. It is suitable for defogging or defrosting all 12V vehicles in the car, camping, and traveling.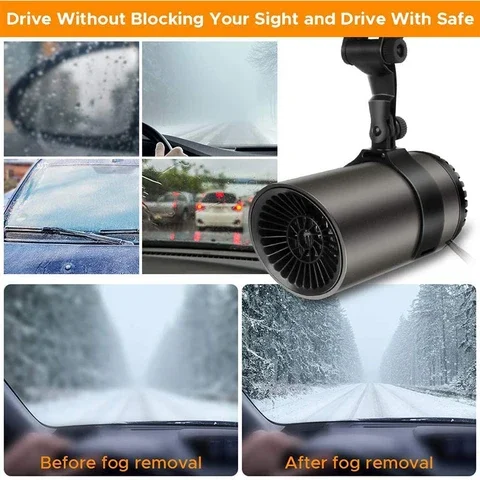 Quickly And Safety - The air outlet of this 12 volt electric heater is concentrated, using high-quality materials and pure copper cables. Its thickness and length are longer, and it can quickly heat up within one minute, supporting the heating of the car when driving for a long time. No more waiting in the cold weather, saving your time and oil.
Widely Usage  - This 12v car heater is perfect for Cars, SUVs, taxis, jeeps, trucks, and other commonly used appliances to keep you warm in winter. It is suitable for defogging or defrosting all 12V vehicles in the car, camping and traveling, de-fogging/defrosting in the winter, and keeping cool in summer.
Easy to Install - Simply connect the portable car heater to the cigarette socket of the vehicle and switch to heat or fan(Make sure your car has a 12V lighter port). The base of the demister can be stood on the non-slip mat, or simply attached with double-sided tape.

360 Degree Adjustment - This 12 volt camping heater is designed with a 360-degree rotating base, easy to control, making the warm wind blow to the place you want. Comes with a 360 degree rotate supporting suction holder, follow control, more convenient and comfortable.
Durable & Energy Saving - Made of ABS material, this 12 volt auto heater is not easily damaged. With its excellent design and high-quality cables, it has a very long service life and is energy efficient, and consumes less.