Flame Cube, Wood Burning and USB Charging Camping Stove
Turn fire into energy with Flame Cube's 2021 stove. Patented firepit 2021 awarded PSE Certification.  a friendly and portable campfire that can cook your meals and charge your gear, all at the same time.
Flame Cube foldable camping stove not only helps you cook during any outdoors adventure, but also can turns fire into electricity and stores it into the battery to power your USB devices. With the compact design, you can effortlessly store it in your backpack for various outdoors activities.
Product Features :
-The bottom of the electric fan provides air, the fuel ash will be consumed simultaneously and
-Higher reliability: dual fans, dual batteries
-Extreme mode design: When the battery runs out unexpectedly, or the battery suffers from low temperature failure,
-It can be used normally and can be restored to use through combustion power generation.
-Flexible use: Combustion chamber. Removable and replaceable
-Touch control, longer key life and more reliable, while pressing the operating posture is more natural and stable
-Adjustable pot holder , it can adapted to pots and cookware of different sizes.
-Independent adding wood mouth, it is more convenient to add wood.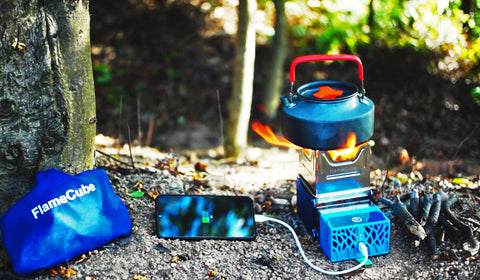 Functions
USB Charging:Charge phones, lights, and more with

 

 with 3W of power 

flame cube generated power.
Power Bank :Thermal electric -generator.
Burn sticks, wood scraps, etc . accessible biofuels around you,no gas or oil fuels
Boil Time: 1L in 4.0 min.
Portable :

 

with Mini size

,light weight for backpackers and hikers.
Waterproof,Quick disassembly, easy Touch Control.
Accommodates pot ,Portable Grill and other cookware.